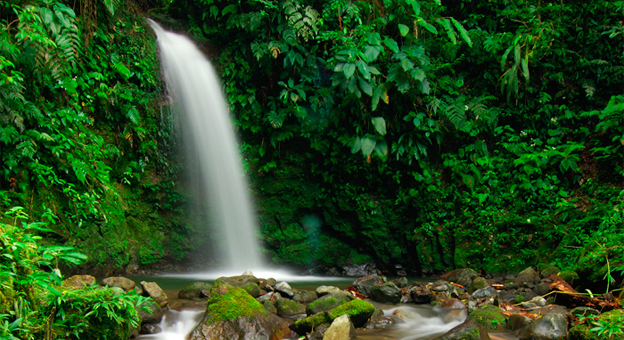 The following is an excerpt from a Vancouver Sun travel piece titled, "Panama is much more than sunny beaches", by Matt Finden:
"A volcanic crater?" I queried, my eyebrow raised with obvious interest. "With a town inside it!?" I considered this for a moment, still not quite sure if I had heard correctly.
Though I was lying prone on a beach chair, piña colada in hand, the earnest young man holding the brochure for his tour company now had my full attention. My wife Fionna who had initiated the conversation was standing beside him, having just returned from a swim in the azure blue ocean stretched before me. Our two children, Maya, 8 and Liam, 6, were of course oblivious to our conversation and were engaged in a boisterous, laughter-filled body surfing contest in the gentle waves washing up on our sandy beach.
"Yes boss. The second largest inhabited dormant crater in the world", came the reply from Manuel.
"It's called the Anton Valley, no more than a 45-minute drive from here."
Now, I think full disclosure is warranted here: our reason for coming to Panama was of singular purpose … to enjoy the sun, sand and surf at a beach resort in a beautiful tropical setting. And as I lay sipping my cold beverage on the first day of our trip under a scorching sun with the temperature in the mid-30s, my initial thought was mission accomplished.
As we would learn over the course of the week though, Panama had much more to offer – and we were under no illusion that we were doing more than scratching the surface in our relatively brief stay.
The Anton Valley was indeed a great half-day excursion into the jungle. The crater is about six kilometres in diameter and had been formed roughly 300,000 years ago. Today, it is a lush, verdant rainforest complete with the small town of El Valle situated within. We went swimming at the base of a waterfall, though I must come clean … I've seen bigger waterfalls along the side of the Sea to Sky Highway. However, it did empty into a beautiful clear, green natural pool that we all delightfully jumped into for a refreshing dip.
While we certainly received our fill of sunshine, heat and beach bars, it's the Panama we discovered off the resort that will continue to resonate in our minds long after our tans fade.